The Membership Form
is available to download online.
Every Membership aids with the cost involved in getting the centre up and running.
(We also offer other types of membership but due to some changes most have been removed from here for now)
Please contact the Secretary via our Contact Us Form for other types of memberships.
Renewals for Membership are due by the end of May every year.
Members if you change any of your details please update us by following the info at the bottom of this page
Membership Cost for the year 2022

*

is $40.00
(Updated for 2021)
All Memberships Fees can be paid by
Cheque/Money Order & posted to our postal address,
Cheque, Cash in person at the Museum,
Credit Card*, Click Here for card payments options.
OR
Direct Deposit
(Account Name "Australian Road Transport Heritage Centre")
(BSB "633000") (Account Number "140288796")
(Referance "Your Name")
Members with club rego with us will have there Rego renewals the same time, if you are not financial then no rego
Click here to view about Club Rego
---
A.R.T.H.C. Membership is the annual membership for support of the centre.
All general members have voting rights.
Renewals are due by the end of May every year.
For a PDF copy click here and print (150Kb Download)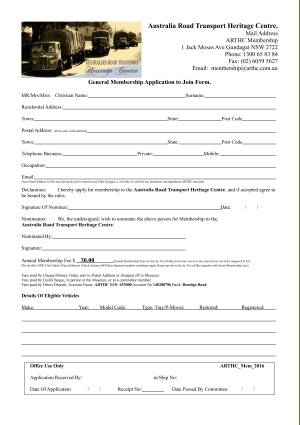 Members joining after Jan do not have to renew till the next year.
Please click here for Credit Card options.
---
Membership Update
Members with the NBN now in full force much has changed over the years,
We are now asking our members to update there info when ever they change things.
To Update your info there is two ways to do this (Links just bellow).
1. Fill in your details through our online form, Please click here for the form.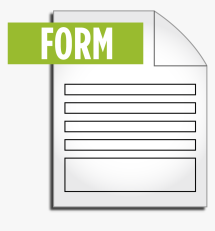 2. Download the Members Update PDF
For the download option please click on the image or the link just bellow it,
this will download a PDF file "membershipupdate.pdf",
Please fill out all area's and send it back to us.
You can Fax, Email or Mail it back to us, details on the form.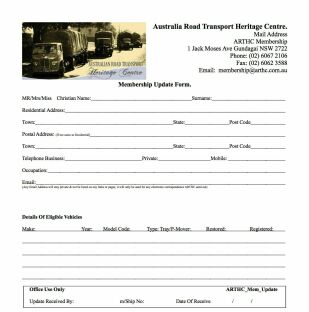 Click here to download the PDF Membership Update Form.
---